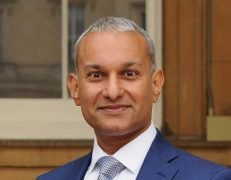 Hardip Begol
Non-executive Director
Hardip is a Non-executive Director (NED) on CfEY's Board. He is also a NED on the Board of the exams regulator, Ofqual.  He was CEO of Woodard Academies Trust from 2020-22, having spent two decades at the Department for Education where his roles as a senior civil servant included responsibility for: special educational needs and disability; reform of curriculum, qualifications and accountability; and independent education, safeguarding in schools and countering extremism.
Earlier in his career, Hardip worked as a trainee chartered accountant, public sector consultant and at the Prime Minister's Strategy Unit. He was also the Director for Integration and Communities at the Ministry of Housing, Communities and Local Government from 2017-2019. He is a former trustee and current member of the Eden Academy and was awarded a CBE for services to education. Hardip is interested in how education leads to responsibility for personal, community and societal development.
View all articles by Hardip Begol here.