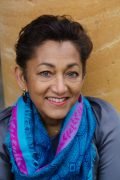 Sara Selvarajah
Chair of the Board
Sara Selvarajah is a Non–executive Director on CfEY's board. She is a chartered accountant and tax advisor with over 30 years' experience in the Financial Services sector. She now works as a Specialist Mentor for the Prince's Trust, helping young entrepreneurs to manage the tax and accounting landscape for their start-up businesses. She actively supports charities focused on access to education for women and works with schools to encourage girls to study STEM subjects.
Sara has advised on the tax implications of managing international businesses for many years and although the economic impact of tax legislation has always been the primary focus, the political and social consequences have always been of interest.
In 2011 Sara studied for an MA in Tax at Kings College London for an academic perspective on the taxation of the global economy and has written topical thought leadership, technical and research articles on the evolving debate. Sara has an MA in Chemistry (Oxford). She has acted as trustee of a major employee pension fund and also a number of small charities.
View all articles by Sara Selvarajah here.