Top Marks in OFSTED for City Gateway!
A better judgement on
City Gateway's
provision would be literally impossible!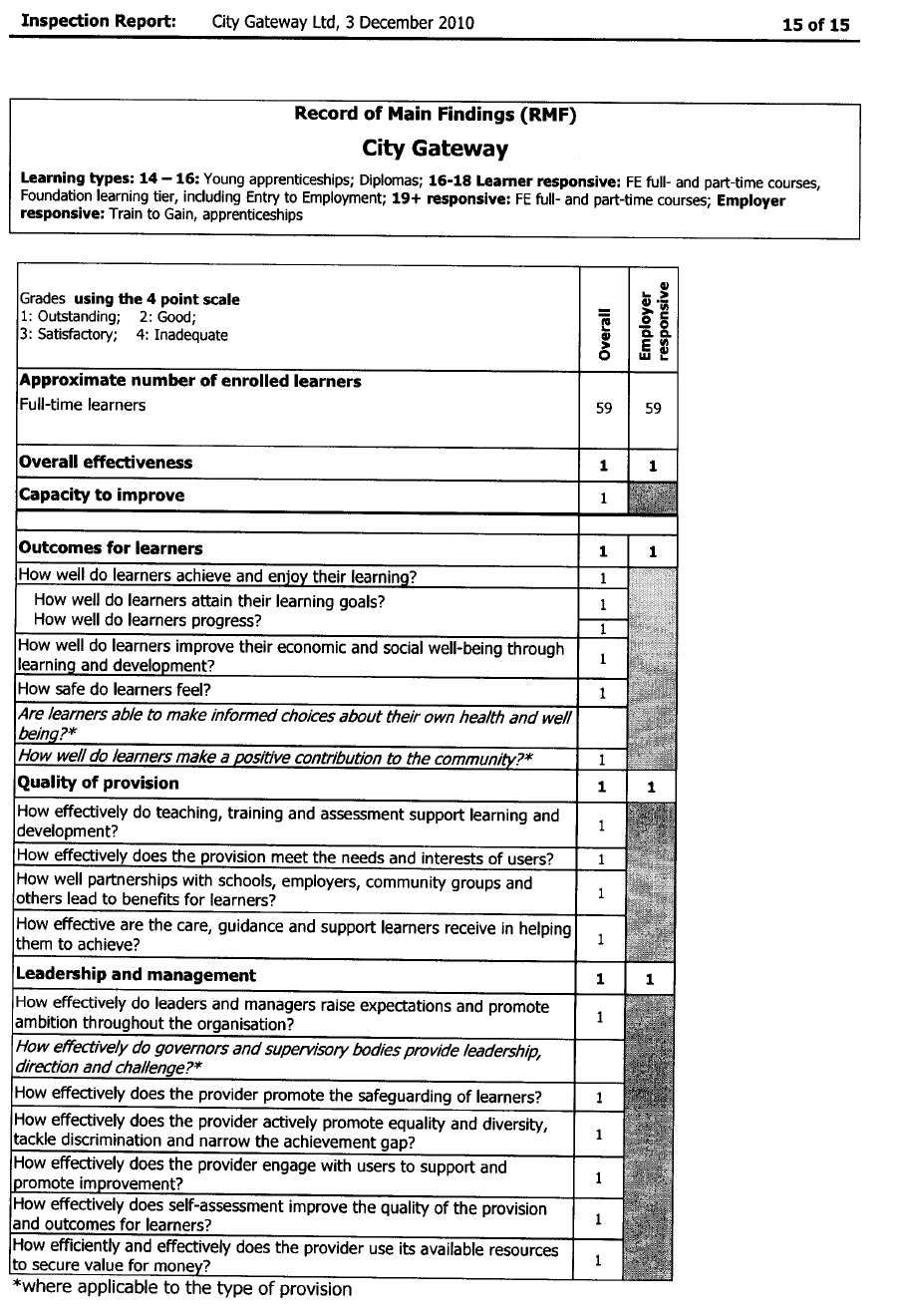 It may have been the charity's first inspection but it received the top grade 'Outstanding' in every single category. Preparing for the first inspection was never going to be easy but City Gateway's innovative model of integrated youth work and training for NEET and at risk of NEET young people shined through and deeply impressed inspectors. One of the inspectors, Will Hudson described City Gateway as 'somewhere they [young people] feel safe, secure and comfortable; they felt they were making real progress'
As part of the preparation process Loic Menzies helped them review data and provision to write their "SAR" (Self Assessment Report) and "QIP" (Quality Improvement Plan) as well as training managers to observe tutors and providing training and feedback to tutors themselves. Their feedback suggests they found it invaluable describing a "measurable improvement in Teaching & Learning" and arguing that without Loic "there is no way I personally would deliver the quality of teaching that I do, or that City Gateway could have achieved our OUTSTANDING grade!":
Here's some more of their feedback:
"Fantastic support, unquestionable knowledge delivered consistently throughout his time here. My teaching and session planning has improved dramatically. Thank you Loic! 
You're a hero!"
Matt Skaife, Employment Progression Worker
"Loic was incredibly helpful in the run up to Ofsted and makes things appear very simple when explaining what the Inspectors expect to see"
Hans Sims – Sports Training Co-ordinator
"Loic was incredibly thorough and helpful in his advice and feedback. In terms of the training and preparation of our staff team, he brought amazing teaching, training and input to our services. There's no doubt that us receiving an outstanding and top grades is partly due to his advice and input"
Suzy Stride, Retention Worker
"Loic gave me good feedback to a session he observed of mine. He made me realise my strengths and the things I needed to improve on. I was then able to go and improve my session planning.
Thanks!"
Luke With – Sports Tutor
"Without Loic there is no way I personally would deliver the quality of teaching that I do, or that City Gateway could have achieved our OUTSTANDING grade!"
Sarah Webster – Employment & Progression Coordinator
"It was a pleasure working with Loic. In addition to the clear experience and knowledge he brings to the table he has a very relaxed and professional approach. A true strength of Loic's is his ability to break down complex issues into simple, understandable and, most importantly, relevant ways to us as clients.
Great job – Many thanks!"
Martin Briggs – Contracts and Performance Manager
"Loic has a wealth of teaching knowledge. As a developing tutor I will adopt the gems he shared with us"
Sharon Mena – Functional Skills Tutor
"Outstanding! Loic's work with City Gateway was foundational to our OFSTED success. His professionalism, expertise and guidance was outstanding!"
David Howard – Apprentice Retention Worker
"Loic was a great help to have around, and great to have him assist us to reach outstanding!"
Dan Warlow – Customer Service Tutor
"Loic you have been brilliant! Thank you so much!"
Joe Lowther – Training & Employment Manager
"Loic thank you so much for all your expertise. Your solid grounding in education and passion for helping others to succeed has benefited us hugely. You have a remarkable way of keeping us focused on what's really important so that our learners can progress and achieve as much as possible. I would recommend you wholeheartedly to any organisation or teacher that wants to be outstanding!"
Nikki Coupe – Learning Quality Manager
"Loic is a bubbly and positive professional, quick to engage staff and sure to excite and encourage. This input lead to a measurable improvement in Teaching & Learning. I would strongly recommend him for your business."
Jon Skaife – Apprenticeship & Progression Manager