Oracy: Why I left the Speaking Up For Speaking event buzzing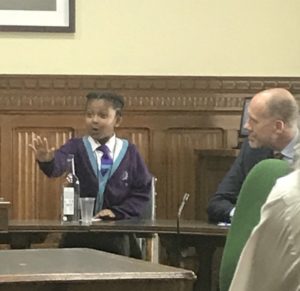 Events in the Commons' committee rooms invariably concern important issues, but are sometimes a little…. stuffy.
Our recent event with Emma Hardy MP-  "#speakingup"  was different, and there are five main reasons I thought it was both unique and successful.
It'd be great to see more events following these principles.
1. The fantastic speakers included the group most affected by the issues – young people.
Alongside parliamentarians and representatives from the teaching profession, young people described oracy's positive impact in their lives. For example, Olivia from Manchester explained how oracy and the Reclaim Project helped her find her "authentic" voice, "the one I knew I had but was never quite sure how to use."
"We believe it is very important for everyone to be heard. What's the point of having amazing ideas if you're not going to be heard?" A Year 5 @school21_uk student shares his views on why #oracy should be taught in every school. #speakingup pic.twitter.com/SLlhVQ125A

— Voice21 (@voice21oracy) April 24, 2018
2. Different organisations collaborated to support a bigger issue. 
Voice 21, the English Speaking Union, the English Speaking Board, and LKMco all came together to help Emma organise the event, demonstrating that collaboration can ensure events tackling shared interests create a stir.
3. The event crossed divides, representing different view points about oracy.
It was special hearing MPs from different parties talk about oracy's importance in supporting children and young people's life chances.
Speakers included Conservative MPs Nadhim Zahawi and Lucy Allan, and Labour's Seema Malhotra. We also heard a range of educational viewpoints, with Debra Kidd and NFER's Karen Wespieser discussing the evidence base for oracy, and Emma Hardy and Policy Exchange's John Blake stressing the need for knowledge-rich learning and curricula.
Grateful to the young people who spoke at today's #speakingup event, particularly one pupil from St Thomas More School in Stoke who told us about the support he's received. Thank you to him for helping to launch Stoke's Opportunity Area programme, backed by a share of £72million. pic.twitter.com/0vYN1KjSou

— Nadhim Zahawi (@nadhimzahawi) April 24, 2018
Challenge in doing debating as a teacher was that although we taught presentation skills, pupils lost debates because they didn't have the knowledge they needed in order to win. Don't set this up as opposed to a knowledge rich curriculum says @Johndavidblake

— Loic (@LoicMnzs) April 24, 2018
4. We explored the role of 'hard' and 'soft' policy levers.
Whilst some argued that oracy should be given greater prominence in the National Curriculum and school inspection framework, others asked why teachers needed to be made to do something. Are there other options, such as improved access to training or subtle changes to government contracts?
5. We recognised the many different forms oracy can take and now have concrete plans for what we will do next.
The term 'oracy' refers to a set of skills pupils learn, as well as a set of pedagogical tools teachers can develop to enhance classroom practice – something that is very much emphasised in Voice 21 and LKMco's report.
Moving forwards, Emma Hardy now plans to set up an All-Party Parliamentary Group on oracy, where we will be able to pursue these issues and ensure oracy becomes a widely recognised and valued part of pupils' education.
5 ways to make sure your policy event causes a stir
Click To Tweet
The event was reported in both Schools Week and the TES, and a video of the event is available on Facebook.
Read our research report to find out how to improve pupils' oracy in your school.