Welcoming Baz Ramaiah to the CfEY team!
We are absolutely delighted to announce that Baz Ramaiah will be joining The Centre for Education and Youth in November.
Baz will be joining our policy strand, helping to ensure we maximise our impact across the education system.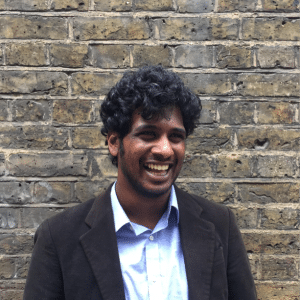 On joining CfEY, Baz said:
"I first met the CFEY team back in 2017 and was blown away by their energy, affability and their deep and broad experience from across the ecosystem of education and youth services. I've wanted to come and work here pretty much ever since!

"The past 6 months have been era-altering for young people and there's never been a more important time to analyse and understand the major issues in education. I'm looking forward to doing this at CfEY, but also diffusing the discoveries we make in research into the worlds of policymaking and practice to really change things for the better for young people."
Bart Shaw, CfEY's Head of Policy, said:
"We are delighted to welcome Baz to the Centre for Education and Youth. Baz will bring new ideas and energy to our policy work, helping us both to shape the recommendations that we make to policy makers and also boost the impact we have in advocating for change. We can't wait for him to join our team!"
Baz has spent nearly all of his professional career working in education. After studying philosophy at King's College London, he got his first taste of the classroom working as a special educational needs teaching assistant. He then spent the next five years teaching Religious Education and Psychology in inner city schools in East London and Manchester.
He left the classroom for the world of educational technology, and was part of the founding team for Teacher Booker, a start-up supporting schools with recruitment. During this time, Baz completed an MPhil in Psychology at the University of Cambridge where his field work involved teaching and researching in two Pupil Referral Units in London. He then joined Teacher Tapp, the UK's biggest daily survey of teachers, as Research & Programmes Lead where he led an Innovate UK-funded trial of daily teacher surveying in Ghana.
He has written on issues related to education, politics and data for The Evening Standard, Schools Week, Teach Primary, Teach Secondary, Cambridge University Press, The Tribune and The Jacobin.
In his first blog for CfEY, Baz argues that to address increasing intergenerational inequality, government needs to improve the access of young people to free education and decent housing.