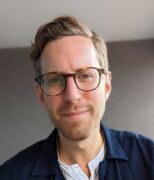 Matt Lloyd-Rose
Catalyst Partner
Matt Lloyd-Rose has worked as a carer, primary school teacher, police officer, and in leadership roles across the charity and social sectors. He is the author of Into the Night: A Year with the Police (Routledge, 2023), which was Book of the Week on Radio 4, The Character Conundrum: How to develop confidence, independence and resilience in the classroom (Routledge, 2018), and Curiocity: An Alternative A to Z of London (Penguin, 2016), which was shortlisted for a British Book Award. Matt lives in Cyprus with his wife and two young children and balances writing with work supporting organisations to increase their social impact and bring about social change.
"I've worked with CfEY in previous roles and always been blown away by the rigour and action-orientation of their work, and the passion and imagination of their team. It's a pleasure and a privilege to support them now as a Catalyst."
View all articles by Matt Lloyd-Rose here.