Votes at 16- Distraction or Key?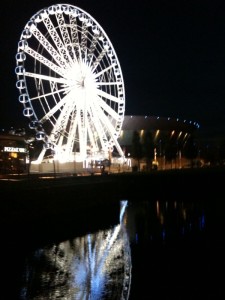 "Votes at 16 would be a distraction for now", Lynne Featherstone, Minister for Equalities told a Coalition for Young People fringe meeting at the Libdem conference on Tuesday. Michael Fairclough from the Co-operative Group disagreed. For him, votes at 16 are the key to increasing young people's influence in politics. So how important are votes at 16 to the status of young people in politics?
We're all familiar with the stats and arguments about young people's high levels of engagement in issue based politics, campaigns, community activism and volunteering. This presents a strong counter-argument to the claim that young people are disinterested and apathetic. On the other hand only 44% of 18-24 year olds voted in the 2010 general election (Ipsos Mori). We therefore conclude that young people are interested in a different type of politics. That's all well and good, but what future does it paint for our system of party based,  representative democracy? One option would be to somehow re-invent the British constitution and find some new form of participatory democracy. I sometimes wonder if this is the idea behind some of the current rhetoric around choice, citizen commissioning and direct election of police commissioners. Yet whilst these policies may or may not be a good idea, they offer an additional level of democracy rather than a replacement for the current system. Therefore, if the current system is to remain viable and yield legitimate government, young people's engagement with participatory democracy needs to be converted into engagement with the parties and representative democracy.
Young people's issue based participation should be a natural stepping stone to more traditional forms of participation and I'm coming to wonder whether this should be the priority rather than widening the franchise. Adam Nichols, Chief Exec at Changemakers explained his view to me that the preoccupation with votes at 16 is getting in the way of this bigger priority and bigger opportunity. I think he's right. I'm personally in favour of Votes at 16 because of the principle of "no taxation without representation" (as well as it being consistent with rules for joining the military, getting married etc.).  I doubt though that on its own it would really do much to increase participation. Votes at 16 will not be a silver bullet in terms of bringing young people into our political system and yet the youth sector dedicates a huge amount of time to the campaign. What we should really be doing is developing solutions that tap into young people's energy and enthusiasm for issues and shows how these are relevant to our system of government. This presents a great opportunity because it will require parties and their representatives to engage with the issues that motivate young people in a more explicit way. They will need to state how their party is taking a position and acting in response to young people's campaigns, whether it be on youth-clubs and activities, knife crime or the cost of transport for young people. On the other hand, there is little reason for them to do this whilst the 16-18 age group does not have the vote and whilst 18-24 year olds so rarely vote. This is where Fairclough was right – we need to make it worthwhile for politicians to court young people's votes and even if only a small percentage of 16-18 year olds voted it would at least raise their clout a little.  In effect, it's a real chicken and egg situation: representative democracy will be more relevant for young people once they participate more but they will only participate more once representative democracy is more relevant. The only solution is not to be too distracted by either aspect to the exclusion of the other.