Press Release: The Six Predictable Failures of Free Schools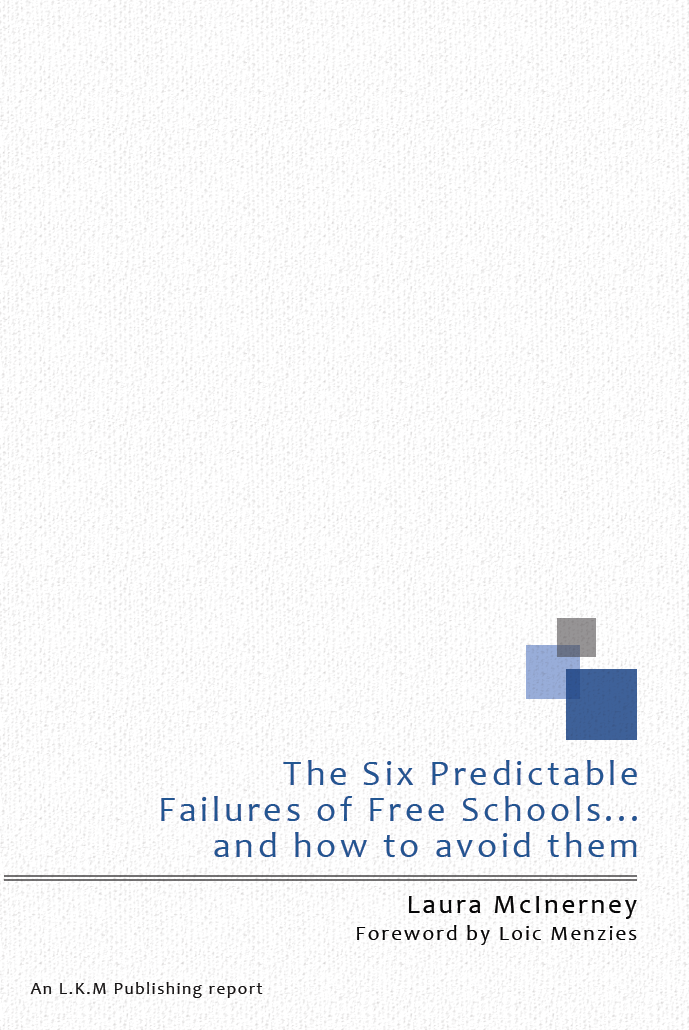 "Do Not Under-Estimate the Complexity of Opening a New School"
"Your school is more likely to fail than succeed." This is the stark warning dished out in a new report designed to help potential school founders avoid the "6 Predictable Failures of Free Schools".
The report is by Laura McInerney and Loic Menzies of L.K.M Publishing, the publishing arm of education and youth development consultancy L.K.M Consulting. Director Loic Menzies explains the reports' rationale: "Though we are free school sceptics, we believe some Free Schools could provide young people with great opportunities. We wanted to make sure school founders had information about avoiding obvious pitfalls."
300 groups have already applied to the DfE to set up a Free School and the first schools are due to open in September, this makes the report a timely and welcome contribution to shaping the new educational landscape. One potential founder, Adam Nichols, Chief Executive of the national youth charity Change Makers read the book and commented:
"The 6 Predictable Failures of Free Schools… certainly changed my thinking and helped me to clarify my plans. This report is essential reading for anyone thinking about setting up a Free School and for all those interested in the debate"
"The 6 Predictable Failures of Free Schools… and how to avoid them" is based on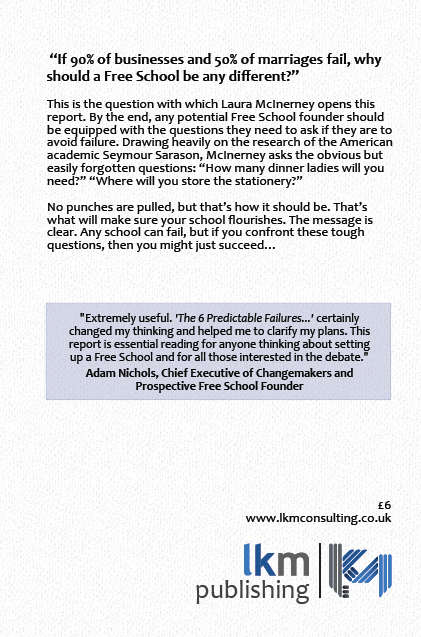 decades of research by the academic Seymour Sarason on Charter Schools, the US equivalent of Free Schools'. Sarason analysed the circumstances causing Charter Schools to succeed or fail. Using Sarason's work, McInerney presents six key lessons for school founders. "Among all the arguing about Free Schools I was shocked that so few people mention the most boring but critical questions about running a school such as how many dinner ladies you will need and where you will store your stationary. Getting excited about grand visions of ethos and culture might be fun, but that's not what new schools systematically fail to get right."
Some of the recommendations will make for uncomfortable reading: many existing groups appoint "Principles Designate" from amongst their founding team whereas McInerney makes it clear that groups should avoid self-selection for leadership. She also suggests that schools should present themselves as complementary to existing provision rather than unique or superior and that they should write a co-option plan in case the schools is subsumed by the Local Authority. Finally, she urges government to commission independent research on the setting up process.
As the report concludes "Any school can fail, but if you confront these tough questions, then you might just succeed…"
The publication is available from Amazon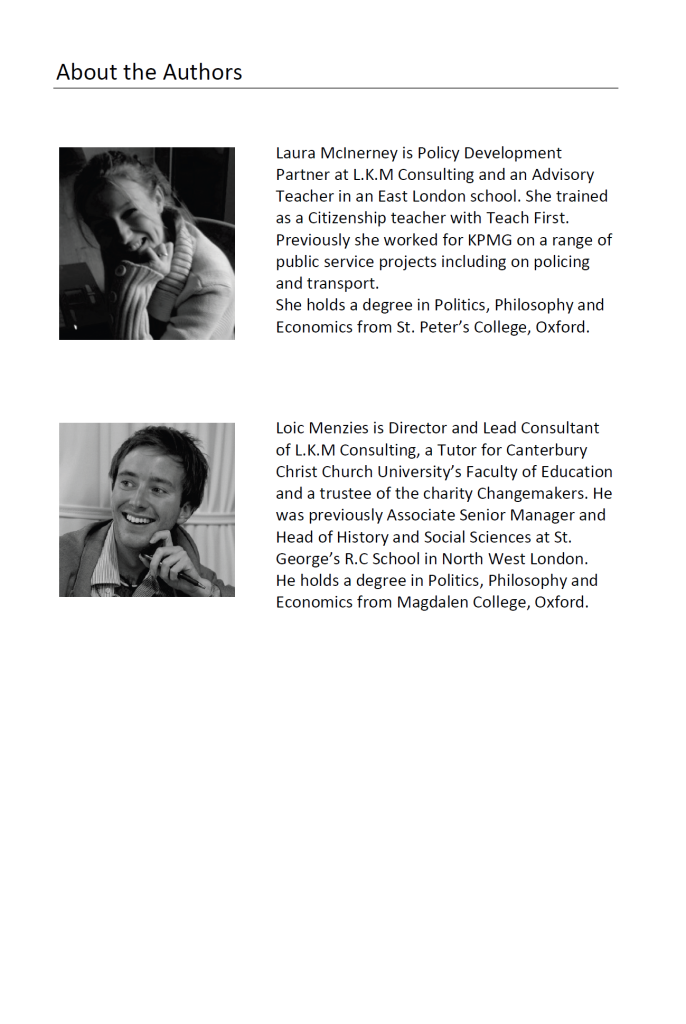 Notes for editors
L.K.M Publishing is part of the Cambridge based education and youth development consultancy L.K.M Consulting. It aims to produce short, timely, constructive but critical handbooks in response to public policy developments.
L.K.M Consulting works with schools, third-sector organisations and policy-makers to help them provide the outstanding services young people deserve. It is involved in school improvement projects, teacher training, business-development for social-enterprises, research and advocacy.
Laura McInerney and Loic Menzies are both qualified teachers working in challenging London schools and are Ambassadors of the TeachFirst program.
Further information is available from www.lkmconsulting.co.ukor please contact Loic Menzies directly [email protected]/ +44 (0)7793 370459