Extended Schools 2.0 – how to make an extended school day/year into something really valuable.
 On the
24th
of June 2010, the government published statistics showing that
98% of schools in England were now providing the full core of 'extended services'
including "A varied range of before and after school activities including study support in a safe place to be for primary and secondary schools". Since then talk has been of a rather different kind of extended day/year and has culminated in today's Sun Headline based on
Paul Kirby's 45 hours, 45 weeks
 proposal. At present, this approach risks providing more of the same, riling teachers and doing very little to provide pupils with what they need, but it doesn't have to be that way….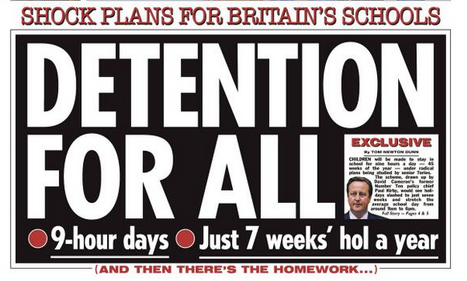 (via @SuttonNick)
We have been looking at this issue for a while at LKMco: In 2012, Laura examined the evidence for an extended school day and argued that although the effect on attainment can be statistically significant, it is small. A year later, when summer holidays looked under threat, she took on 'The Gove who cried summer holidays'. Since then, I have been arguing that, if implemented, an extended day/year should:
a)      Address the wider issues teachers often do not have the time/inclination to support pupils with
b)      Draw in a different type of expertise
c)       Widen the opportunities available to young people and compensate for some of the things disadvantaged pupils miss out on.
The cry 'I'm a teacher, not a social worker' is a frequent response to the constant stream of issues teachers are expected to address. My answer tends to be, 'if these things need addressing, someone needs to do so- and right now no one else is'. If we are going to give pupils more time in school then let's use that time, not to do more of the same, but to make sure these issues are dealt with, so that teaching time can remain focused on teaching. An extended day/year would provide a great opportunity to learn about careers, sex and relationships education and all those wider, developmental things that are important but not part of the 'academic core'.
But will teachers be willing/able to do these things? In many cases not. And why should they? They are not necessarily best placed to do so, and a traditional classroom setting may not be the best setting for learning about them.  However, the youth sector is bigger than just teachers and schools; other youth organisations, youth-workers and counselors may be able to address pupils' non-academic development better (as has recently been argued by the National Youth Agency and by London Youth). There are entire organisations dedicated to bringing their external expertise to young people, whether in creative writing and business mentoring or sports/outdoor-adventure learning and Active Citizenship. Why not create opportunities for these organisations and for a different type of learning in the new space afforded by more time in school?
Becky Francis and Merryn Hutchings' Sutton Trust report "Parent Power" highlighted the striking differences in the opportunities afforded to disadvantaged pupils in terms of visiting museums, going to concerts and so on compared to their better off peers.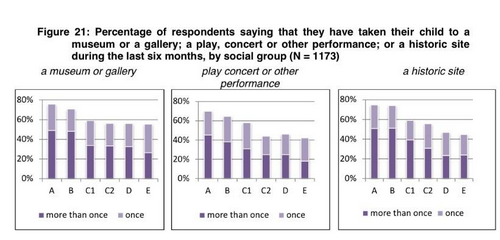 A relentless focus on attainment means that compensating for this type of socio-economic inequality can fall off the priority list. Yet, during London Challenge (for example), the focus went beyond attainment: Tim Brighouse's initiative 'The Student Pledge' set out a bold vision that all pupils should access the city's full richness in terms of sports and culture. If implemented, an extended day/year should provide access to these opportunities and perhaps to programs like the Duke of Edinburgh Award or a variation on the National Citizens Service.
Talk of extra hours and a longer year is currently being seen as the nail in the coffin of childhood and a threat to teachers' working conditions. However, if politicians take their lead from the approach I've outlined above, 'Extended Schools 2.0' could be an opportunity to give young people the character shaping experiences and support they need to get more out of their education and to make a fulfilling transition to adulthood.