Partners in Progression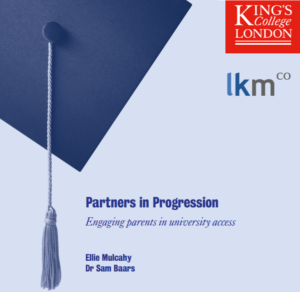 Universities should work with parents to increase access to university, according to a new report published today by King's College London's Widening Participation Department and LKMco.
The recommendation comes in response to the finding that 95% of parents have concerns about their child going to university, including worries about debt, living costs and the support available for students. Key concerns include debt and employment prospects:
Two thirds (65%) of parents are concerned about the level of debt their children will leave university with.
Over half of parents (53%) of parents are concerned about whether universities will improve their child's employment prospects.
Despite these concerns, we found that parents want to engage with universities. Parents should therefore not be seen as 'a problem to overcome'but as valuable partners in helping children access higher education.
Download the report here