Teachers are Humans: What does that mean for school leaders trying to recruit and retain them? 
The DfE is due to announce its recruitment and retention strategy soon, but there's no reason why schools should wait for policy makers to maximise their chances of recruiting the teachers they need.
This is the third in a series of blogs exploring actions teachers and leaders can take to help weather the recruitment and retention crisis (see also here and here).
It sets out four key lessons for school leaders drawn from our research on teacher motivations.   
1. Teachers' motivations differ and change over time – therefore make sure you know which itch to scratch for whom.
Teachers go into the profession for different reasons. For some, it's the subject they are teaching, for others, that's of little importance; for some, working with children and young people is a huge source of satisfaction, for others it is working with particular demographics or contributing to social change that matters.
Make sure you know which itch to scratch for whom Click To Tweet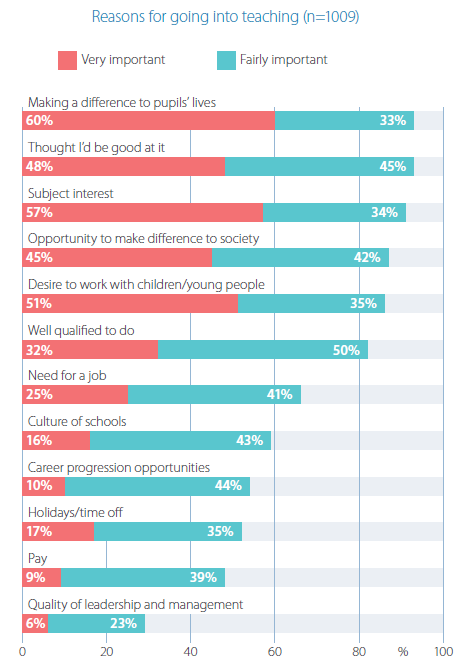 It would be easy to pick the most common motivation – 'Making a difference to pupils' lives' and to focus all recruitment drives on this. However this would mean ignoring the interests of the 45% of teachers who said that 'making a difference to society' was very important.
Similarly, the Behavioural Insights Team famously showed that an advert emphasising the challenge involved in teaching was more effective than an advert emphasising the opportunity to make a difference to society. However, people often misinterpret that finding as showing that teaching adverts should focus on one message rather than another.
In fact it shows that the group of teachers attracted by one message is larger than the group attracted by the other.
Right now, we need as many great teachers as possible, so school leaders trying to attract staff should avoid putting all their eggs in one basket.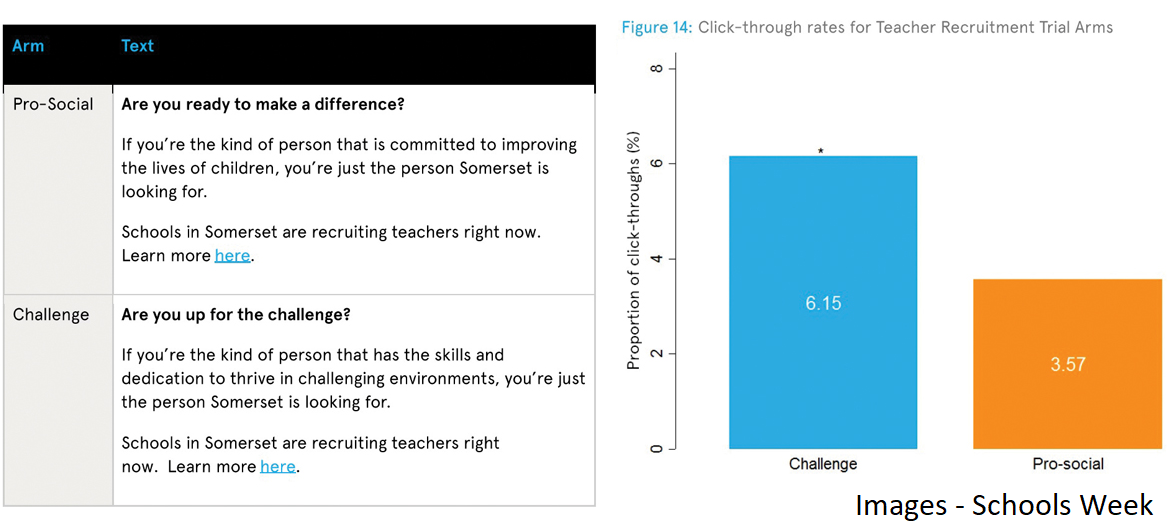 school leaders trying to attract staff should avoid putting all their eggs in one basket.
Click To Tweet
Motivations are also fluid and line managers should therefore check-in with staff regularly to find out what is making them tick. They can then ensure that career development opportunities nourish ever-changing interests. 
Our peer reviewed research on teachers who have been in the profession for 10 years or more suggests that professional mastery and subject expertise are of particular importance to more experienced teachers. On the flip side, 'availability of CPD' is of least importance to older teachers when it comes to reasons for moving to a different school.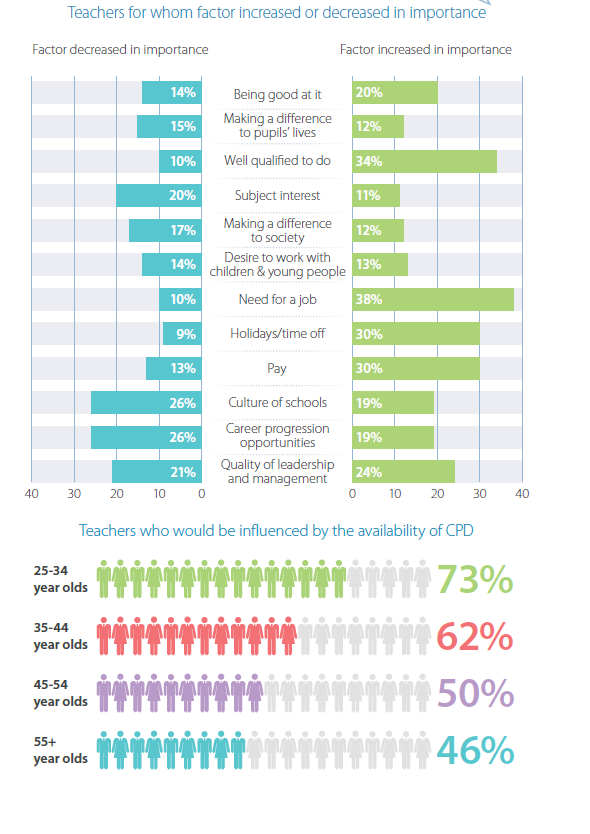 2. Recruitment is place-based – therefore look on your front doorstep.
Large numbers of NQTs flow into London, particularly in their early 20s, but beyond that, teachers in their late 20s or early 30s flood out of the capital in search of cheaper housing and better family life.
If you're a school leader trying to attract teachers to a school outside of London, are there features of your school's area that could have similar appeal to London for NQTs and early career teachers? Or, are there things about it that could make it a perfect spot to start a family for slightly more experienced teachers?
On the other hand, don't forget potential staff who might be hiding in plain sight.
Most of the teachers we've interviewed wanted to find schools near where they lived, and indeed grew up. So consider:
         

Who are the TAs who might need a little nudge to make the jump into teaching?

         

Are there any ex-teachers around your school who could be brought back?

         

Are there any individuals in your parent community who might consider training to teach?
3. Some teachers have highly social motivations – therefore if your school is particularly challenging, turn that into an asset.



Notwithstanding the local nature of recruitment, geography need not always be a barrier. As noted earlier, teachers' motivations vary hugely.
My motivations for teaching were around making a difference to society – so it took my by surprise when I spoke to teachers during fieldwork for 'Why Teach?' with different motivations.
It wasn't that these teachers didn't have extremely positive and altruistic motivations, but for them, passing on a passion for their subject, or changing individual pupils' lives – regardless of who they were, was a more concrete and tangible motivator than my – perhaps highfalutin and somewhat abstract desire – to transform society.
"I want to make a difference but I want to make a difference in people's learning, not necessarily purely to society to the community, because I think children could be left out within that… you need to see children as being individuals and helping as many children as possible, not just society or the group"
Focus group participant
On the other hand, some teachers have such socially orientated motivations that I term them 'super-social.' They want to find the most challenging setting possible and transform an entire community, some seem to see their classroom or school as a test case for the possibility of social change through education.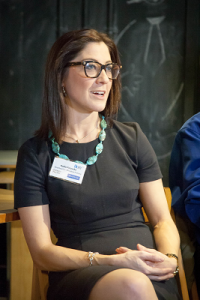 "I did have a preference to come here because I saw it as the greatest challenge… two members of staff that are working here have moved professions to do  it and I'm supporting them through schools direct program, and essentially I headhunted them because of who they are. My belief is that people like that should be in schools."
Nadia
Nadia is a 'super-social' teacher and leader, and recognised that even if they are rare, there are others willing to uproot their lives for the right opportunity.
Having moved to Lowestoft for a school that suited her, Nadia became evangelical in her recruitment efforts, coaxing people out of other professions and putting posters all around the UCL Institute of Education – many hours away from her school.
We know that some schools find it particularly hard to recruit teachers. Teachers like Nadia and the colleagues she has recruited are a rare breed, but schools in the most challenging circumstances should not discount the possibility of finding staff in unusual places if they can make the right case.
'Why Teach?', the previously mentioned Behavioural Insights Team study, and the success of Teach First's recruitment campaigns all show that challenge can be turned into desirability.
Schools in the most challenging circumstances should not discount the possibility of finding staff in unusual places if they can make the right case
Click To Tweet
4. Entry to the profession is often accidental – therefore create opportunities to get teachers hooked.
Time and again, we have encountered teachers who never intended to teach. Some did odd jobs in school and found themselves seduced by an environment filled with the joy of children, and where they saw they could change lives on a day-to-day basis. Others embarked on a career in teaching after little more than a work experience placement, or in Nick's case, after a short stint as a cover supervisor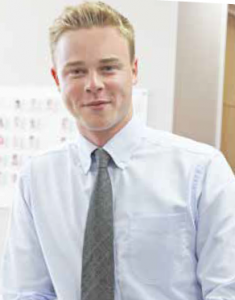 "When I left university I graduated, I went away for the summer and I came back and I was happy enough with my life …but I felt like I had not had any particular rewarding experiences beyond your kind of basic pleasures of having fun at university and having a decent job and so on… I also didn't have any idea what I wanted to do as a career and that left me feeling lost and quite insecure about where I was going with my future"
Nick 
Given this, consider how permeable the boundaries to your school are:
Could you offer taster days?

Could you invite talented ex-pupils to come in for holiday-work during their time at university?
I remember one pupil who was in year 11 when I started teaching, but who returned nearly three years later whilst at university for a summer job. Sure enough, three years later, I was a Schools Direct Tutor for Canterbury Christ Church University, and he was one of my trainees in the school I had taught at and he had studied at.
There is no doubt that serious government action is urgently needed to end the recruitment and retention crisis, but school leaders know full-well that their pupils cannot wait for policy makers.
Hopefully these four lessons, which are set out in more detail in our Why Teach? and Talent Challenge reports will help school leaders find the staff they need if they are to equip their pupils to make a fulfilling transition to adulthood.
Teachers are Humans: Lessons from research on teacher motivations, and four implications for recruitment and retention
Click To Tweet