MAT Performance in Context
In an article published in the British Educational Research Journal last year, Leckie and Goldstein demonstrated what most of us know through instinct and experience: that a broad range of factors play a part in a child's achievement – including the relative deprivation of the area they live in, their ethnicity, poverty and whether they have special educational needs. They argue that rather than just looking at exam results, all these factors should be considered when we evaluate school performance.
In other words, they make the case for the sort of Contextual Value Added measures that were all the rage until the Govian revolution.
Not considering school and pupil context means many schools and trusts are being unfairly tarred with the brush of underperformance – when in reality they are actually doing better than other schools. In fact, if performance analysis were adjusted for pupil background, Leckie and Goldstein conclude that "51% of schools judged "underperforming" under Progress 8 [would] move up out of this banding."
With the EEF warning last week that children from disadvantaged backgrounds will fall further behind as a result of school closures context is set to make an even bigger impact on school performance.
Of course, this doesn't mean we shouldn't do everything possible to ensure pupils reach the highest standards regardless of context. However, schools need to be supported in taking a nuanced view of disadvantage as they work to break the link between poverty and attainment. I'm therefore pleased to have worked with Arbor Education to develop a MAT report that goes that bit further in putting performance into context.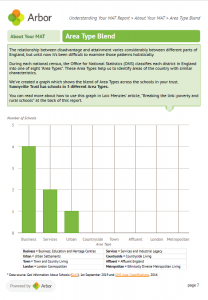 The report has been produced for 1,215 MATs and aims to help trusts reflect on out-of-school circumstances and wider information about the local community, to understand their unique makeup compared to others in England, and how context and attainment differs between schools within the trust.
To create the report, Arbor crunched each MAT's exam results and presented the spread of results across each trust's schools, benchmarked against national averages.
I then worked with them to bring in schools' area demographics from the Office for National Statistics and pupil characteristics (such as % pupils eligible for free school meals or with special educational needs) from Get Information About Schools.
We back-and-forthed continuously to develop the simplest, clearest and most helpful presentation of the data possible so that non-specialist governors and trustees could get to grips with the information.
CfEY's previous research 'Building Trusts' with Ambition Institute shows that looking at contextual characteristics across a group of schools is important in shaping a MAT's strategy and operating model. The idea with this tool is therefore to change the way trusts look at data by offering breadth and detail where School Performance Tables alone cannot tell the whole story.
The dialogue around more nuanced performance analysis is opening up, and hopefully soon the story of educational underachievement won't be told as a story of school underperformance. Instead, data will help schools and MATs to uncover the factors shaping their school and pupil circumstances.
The Understanding Your MAT Report is out now. If you'd like to download your trust's free report, sign up at: www.arbor-education.com