Social Impact 2013-14 and an exciting announcement!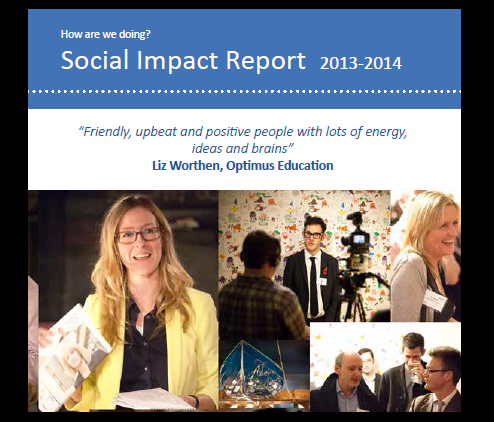 As a social enterprise, every year we publish a social impact report which helps us make sure we're doing what we set out to do and which helps us develop and improve as an organisation. This year's report is extra-special because:
It is the fourth of our reports to use the same metrics which means we have taken a look at how things have changed over time

It is the last of our reports to use the current set of metrics; as part of our strategic review this year we have made some small but important tweaks, mainly around reducing the number of outcomes to make our data simpler and our focus tighter

But perhaps most of all… as part of the report's launch we are excited to announce that we will now start converting to a Community Interest Company – a legal form which allows us to formally lock in our social mission for the future.
You can read more about this in the press release below or download the report here
Top 20 Education Social Enterprise publishes impact report and announces intention to convert to Community Interest Company
Education and youth 'think and action-tank' LKMco today published its 4th annual social impact report. It tracks the social enterprise's impact over the last four years.
Director Loic Menzies welcomed the report and took the opportunity to announce that after six years in the sector the organisation would now embed its social purpose by converting its legal structure to a 'Community Interest Company'. This will ensure that at least two-thirds of any profits are used for social benefit and that the organisation's assets are locked into the organisation.
Loic explained the decision by saying:
"LKMco has seen significant growth in the last few years with projected growth of over 75% for the second year in a row in 2014-15; it's an achievement which cements our track record of financial success as a company. Whilst we have always been committed to reinvesting profits for social benefit, changing our legal structure will ensure that the organisation continues to combine growth and impact long into the future"
LKMco has published annual social impact reports every year for the last four years and the latest report shows increased impact on eight out of ten indicators.
In April this year, the SE100 index of top social enterprises placed LKMco in the top 100 social enterprises nationally and the top twenty in the education sector.
The organisation is confident that that it will go from strength to strength, as Senior associate Anna Trethewey explains:
"We are committed to combining high profile, rigorous research and policy advocacy with practical support for the education and youth organisations that are making a difference to young people's lives every day. Over the next few months we will be publishing reports that cover crux issues in the sector, including reforms to Special Needs Education, school leadership in London and what motivates teachers' to teach in different parts of the country. As the scale of our work increases we are confident that our impact will do so too. Tracking our impact over time is crucial in helping us monitor this".