Loic Menzies to Pass on the Baton as Chief Exec
As CfEY hit its 11th birthday last August we finished delivering an epic three-year strategy which helped us cement our place as producers of responsive but rigorous research on the key issues facing the sector, making us a credible source of evidence and insight on education policy.
Alongside this, we made good on our commitment to combine 'think' and 'action,' with a series of tools for practitioners to help them better support young people. As we increasingly moved out of 'start up mode', we also took steps to codify our processes and slicken our operations internally to make sure that we had the solid foundations an organisation needs to be sustainable in the long run.
On Tuesday, we announced Routledge would soon publish our first full length book, which will draw together the very best from our body of work over the course of a decade, setting out our priorities for action in the sector.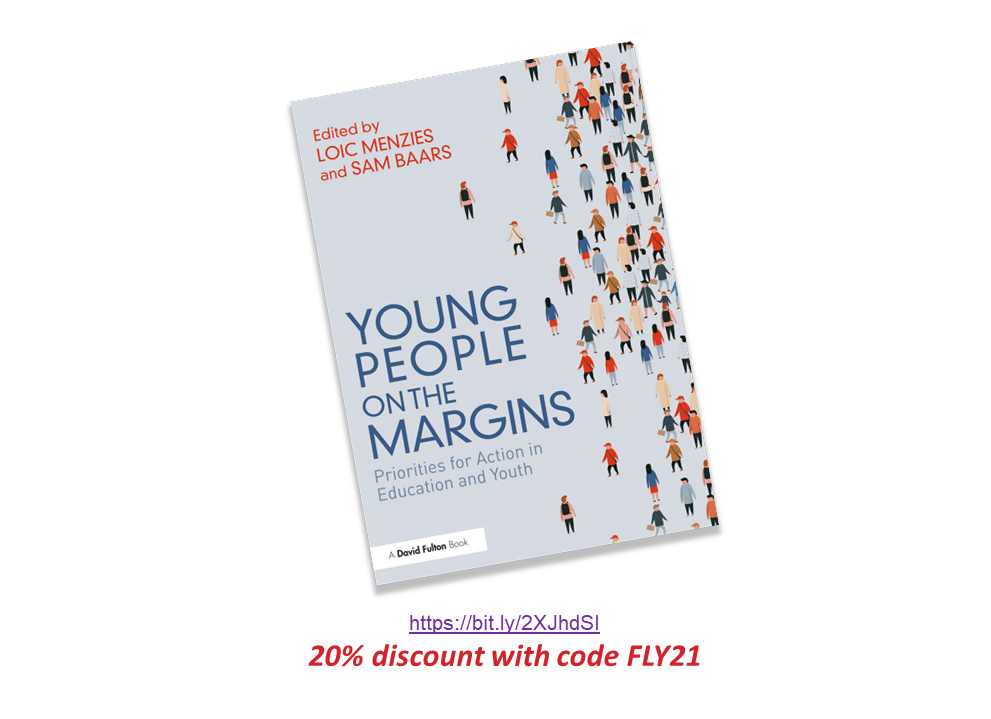 So, what's next for CfEY?
Well, on reflection, I'm not sure it's for me to decide.
Writing about the infamous risk of 'founder syndrome' Rachel Muir, who set up a charity to support girls in STEM in the US writes:
"Congratulations on building something from literally nothing. Yay, you! Think back to why you started your organization. You wanted to change something. You didn't start the organization to have a job for the rest of your life. Truth bomb: if your organization cannot survive and thrive without you at the helm it doesn't deserve to exist."
She speaks a lot of sense.
I've always believed that the moment CfEY would be properly solid would be the moment the organisation could go on to flourish even if I got hit by a school bus or fell off a mountain.
I think we've now reached that point and I'm convinced that the organisation and its brilliant team will go on to achieve great things without me.
It's therefore time for a new Chief Exec to help us decide what CfEY's next chapter will look like.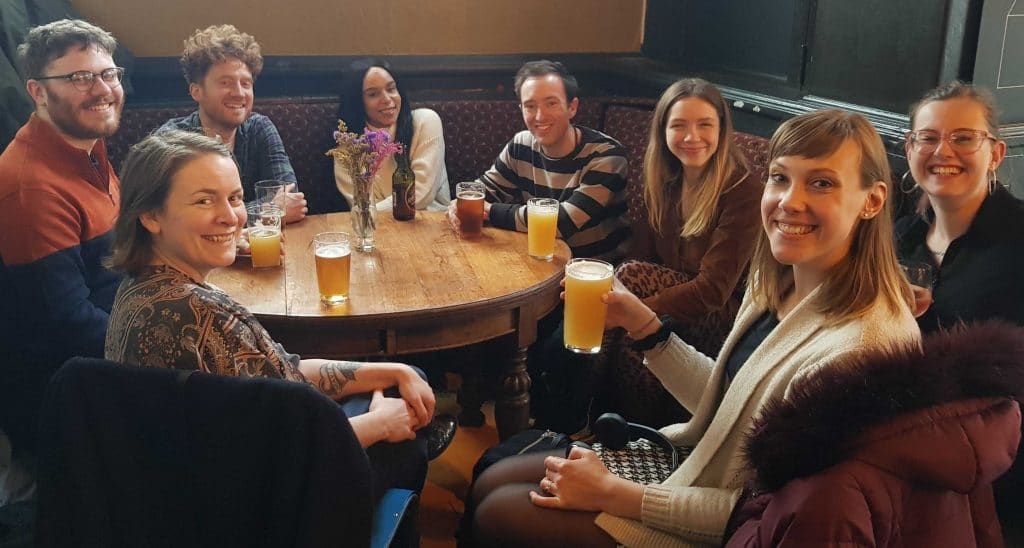 Clearly something like this is always going to feel scary but it's also a huge opportunity for us to shape a future built on new perspectives and skills. I'm confident it will open all sorts of new doors and bring renewed energy and vision.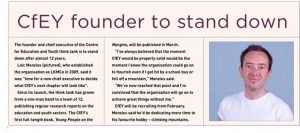 Read about Loic's decision in Schools Week
What will we be looking for from a new Chief Exec?
This is the exam question the team, the board and I have been working on over the last few months, and we will be kicking off the recruitment process next week.
One thing is clear to everyone: nurturing our unique organisational culture will be critical. It's such an important part of what makes us who we are and what makes working at CfEY such a joy. Our "Ways of Working" document will therefore sit at the heart of our search.
A new CEO will also need a range of other skills in order to hit the ground running and keep building on our strengths. They will need to bring expertise in strategic leadership and management, sector knowledge as well as rigorous, analytical thought-leadership and communication.
Whoever we appoint is in for a treat. I can safely say that anyone who loves the education and youth sector; has a strong dose of entrepreneurial spirit; wants to work with an absolutely brilliant team and is endlessly fascinated by the complexities and nuances of evidence – couldn't hope for a better job.
We'll be putting out details of the role next week and if you think you'd like to hear more about it you can sign up (in confidence) to hear more here.
What will you do next?
I honestly don't know. But I expect it will involve a fair bit of mountains and rock.
It will certainly need to be pretty exciting to match the rip-roaring ride I've had the pleasure of at CfEY – right back from when I got some truly cringeworthy business cards printed for what was "L.K.M CONSULTING".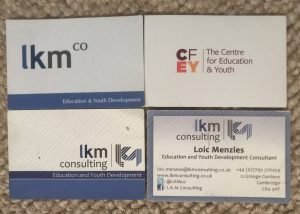 An organisation evolves in four business cards
From there, as Laura McInerney and I worked side-by side, we became LKMco until we finally evolved – with the help of a fabulous team (notably Anna Trethewey my erstwhile deputy for many years), into CfEY in 2019.
I can't even begin to catalogue the twists and turns along the way but a few photos might do the trick.
Maybe I'll tell you the story behind them over a pint one day…