Assessing the early impact of school and college closures on students in England
In partnership with The University of Exeter
by Sam Baars
4th June 2020
Students left feeling powerless amidst grades uncertainty
Students are far more likely to be concerned about grades and transitions than not seeing their friends while their school or college is closed due to Covid 19, we reveal in a new report published today in partnership with the Centre for Social Mobility at the University of Exeter.
The report is based on a survey of 230 students aged 16+ in England, conducted during the initial weeks of school and college closures. When asked what their biggest concern is about their school or college being closed during lockdown, students were five times as likely to mention worries about grades as they were to mention worries about not seeing their friends. The self-reported wellbeing of the surveyed students appears to be significantly below the levels we would expect in the population in normal times.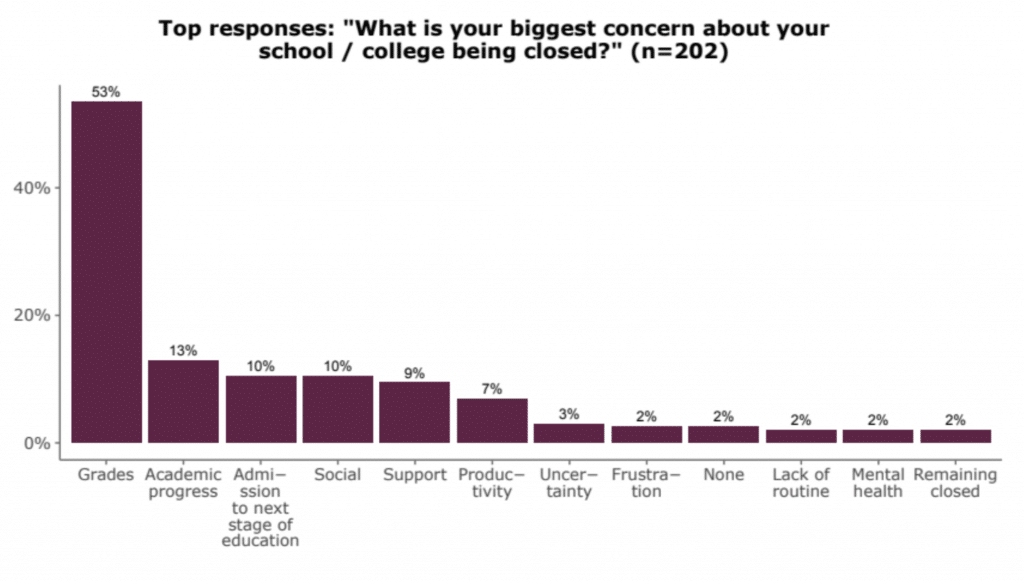 Students were worried about predicted grades being lower than those they would have achieved in an exam and confused about how their grades will be calculated. A third of all students surveyed felt more concerned about grades than before schools closed, while a fifth felt more concerned about university admissions.
The disruption caused by the coronavirus pandemic this year is likely to have an impact on students' decisions relating to employment and higher education and has the potential to widen the inequalities that exist when young people leave compulsory education. The study found that disadvantaged students were less likely to feel they had a plan in place for their future.
Perspectives on life in lockdown
The study also explored students' perspectives on day-to-day life in lockdown, in their own words. When asked to describe life in three words, around a third of students (31%) expressed boredom and around a fifth (18%) described life as repetitive. However, students' views were often mixed: 14% of respondents described life as "relaxed" or "relaxing".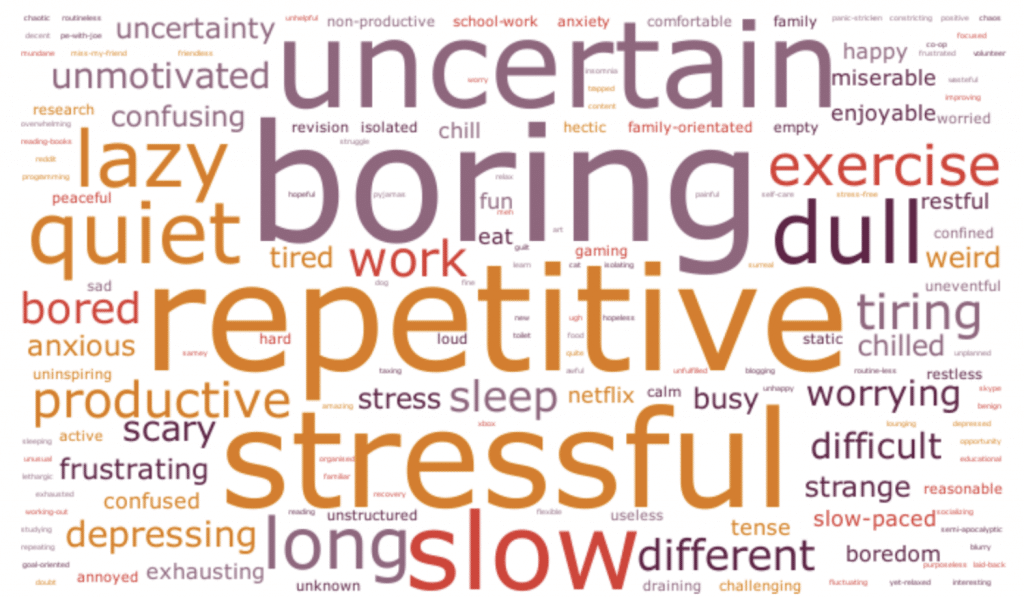 The report also finds:
The majority of students feel that learning at home is harder than learning in school or college, largely due to the loss of in-person interaction with a teacher in an environment that supports learning. Most students reported having access to at least a mobile phone and a laptop at home, but the number of devices available in the household appears to be a barrier to learning for some.
One fifth of respondents did not have access to a quiet study space in their homes, rising to a third among disadvantaged students. Disadvantaged young people who do have a quiet space to study at home are also less likely to have regular access to this space.
Most students did not report a change to their family dynamic as a result of school and college closures. While many reported negative changes, such as increased tension, these often sat alongside positive changes such as being able to spend more time together and feeling closer.
Most students were happy with the support that they have received from their school or college. The most common request was for more or better communication.
The report makes the following recommendations:
Schools should continue to engage and communicate with students, even when they are no longer teaching or preparing these groups for exams
The Department for Education should work to disseminate its advice and guidance on qualifications accessibly. The DfE should repurpose the UCAS clearing helpline to support students with grade-related queries over the summer
For students returning to school or college, Multi-Academy Trusts, Local Authorities, and schools and colleges themselves should review the support for mental health that they are able to offer students.
The Department for Education should extend its free laptop scheme to disadvantaged Year 12s.
In partnership with: