Social and Emotional Learning
In partnership with STiR Education
26th August 2020
In May 2020 The Centre for Education and Youth and
STiR Education
convened a
roundtable
on Social and Emotional Learning, involving a
wide range of partners
from the worlds of academia, policy-making, school leadership and teaching. The conversation was structured around the following questions:
What is the role of SEL in a post-coronavirus world?
Up to now, how has SEL been developed?
What are the challenges in promoting SEL?
What will teachers and professionals want from SEL in a post-corona world and what support will they need?
The crisis has highlighted more than ever the unpredictability of the world in which we live. Rightly, the impact on children's learning has been widely discussed, and we face difficult questions, now and into the future. If the role of education is to prepare children for life in a world of unknown unknowns, how should education now be responding to this 'new normal'?
Importantly, rather than adapting to a 'post'-corona world, many participants emphasised that the virus will be a fact of life for the foreseeable future. Drawing on Franklin D. Roosevelt, we should therefore think about next steps in education is in terms of 'Relief', 'Recovery' and 'Reform', and this is how the report's introduction is structured.
As well as summarising the discussion, CfEY and STiR invited participants to elaborate on the ideas they shared through a series of short think pieces. We wanted to ensure that these offered insights to a wide range of stakeholders in education systems, and we have therefore divided them into four categories:
Understanding SEL
Practical ideas for implementing SEL in schools
Promoting SEL in different communities
Promoting SEL at the system level
You can download the report here.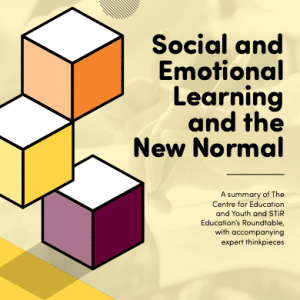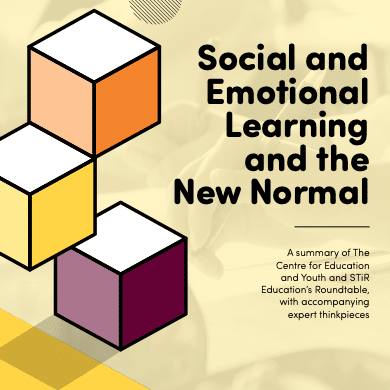 In partnership with: