Bridging the Word Gap at Transition
In partnership with Oxford University Press
22nd October 2020
87% of teachers are concerned that increasing academic requirements at transition from primary to secondary school highlight pupils' difficulties with vocabulary, according to our new report for Oxford University Press.  Meanwhile 92% of teachers believe that this 'word gap' – where children have a vocabulary below age-related expectations – has widened further following school closures brought about by the Covid-19 pandemic.
As children transition from primary to secondary school, there is an expectation that they will be able to use and understand a range of more academic but non-subject-specific words such as summarise, compare, analyse, factor, influence, and cause.  These types of words (known as Tier 2 words) are essential for academic achievement.
47% of the teachers we surveyed said their pupils are "not at all confident" in using general academic vocabulary at the point of transition.  When broken down, the problem takes on further significance at a secondary level with twice as many secondary (64%) as primary school teachers (32%) saying pupils are "not at all confident" in using general academic vocabulary.
School closures have also negatively impacted teachers' ability to support students with their language learning this year, with 94% of teachers saying that they have found it challenging to support pupils' vocabulary development while teaching remotely.
Why is there a word gap?
Primary and secondary schools use vocabulary in different ways and this can lead to difficulties for pupils.  At a primary level, vocabulary is perceived by teachers as being most important for social communication and emotional expression/wellbeing.  As pupils move to secondary school, teachers increasingly link the importance of good vocabulary to academic achievement and preparing for the world of work.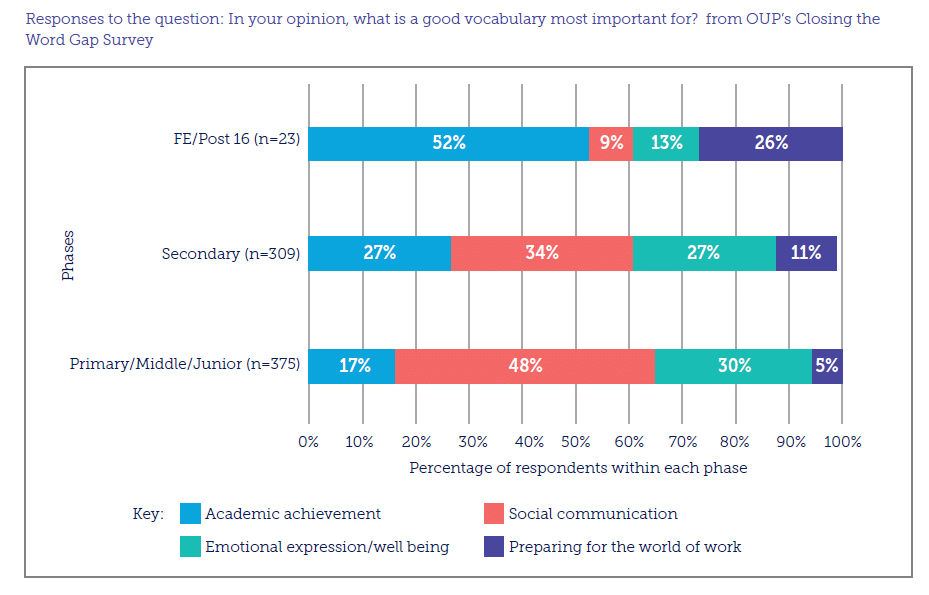 Bridging the word gap at transition
In order to bridge the primary–secondary school word gap, we are calling for a greater consistency of curriculum and practice between primary and secondary schools.  There needs to be more space in the curriculum to help pupils develop the academic language they need at secondary school, and more training and support for teachers.  Where training or continuing professional development (CPD) from external experts has been made available our research shows that more than half of teachers found it to be 'very helpful.'
Loic Menzies, Chief Executive of The Centre for Education and Youth and report author argues that:
"As schools across the country grapple to support their pupils as they return from lockdown, this new report shows that improved support for vocabulary can play a key role in helping children make the challenging transition from primary to secondary school and to make good progress with their studies.  It's no secret that many children struggle to adjust to the changes that come when they move between phases, but rich vocabulary can help them to flourish and overcome some of the challenges they face."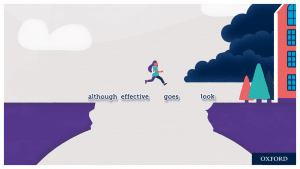 Find out more and access resources designed to help bridge the #WordGap here.
Primary and secondary schools use vocabulary in different ways and this can lead to difficulties for pupils. Find out how to bridge the #wordgap with @OUPPrimary @OxfordEdEnglish
Click To Tweet
In partnership with: