How do essential skills influence life outcomes? An evidence review
In partnership with The Skills Builder Partnership
by Abi Angus
1st October 2020
Our new research explores the relationship between young people's skills development and life outcomes, in terms of their educational attainment, employment prospects, and social and emotional wellbeing, based on a rapid review of existing literature.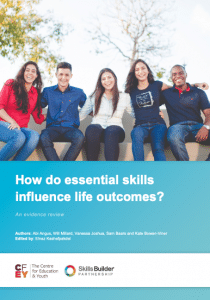 Overall, we found some evidence that some skills, including listening, staying positive and teamwork, can support young people's academic outcomes, resulting in improved reading and writing skills, as well as wider measures of attainment. We also found evidence that the development of skills such as talking, listening and perseverance can positively influence young people's employment prospects, and that interventions focused on pupils' social and emotional skills, such as teamwork and communication, can improve children and young people's emotional and social competencies.
We also look at implications for research and practice within the report.
You can read more about the research in our blog, or download the full report, here.
In partnership with: