The Primary Extended Project Award (PEPA)
In partnership with Big Education, with support from NCFE
22nd May 2023
Last year CfEY teamed up with multi-academy trust Big Education and, with support from the NCFE Assessment Innovation Fund, set out to create the new Primary Extended Project Award (PEPA).
We wanted to design a rigorous, flexible and scalable assessment for ten and eleven-year-olds that any primary school across the UK (or beyond) could use to complement existing practice. Collectively, we recognised three key problems with the assessment system in primary schools that the PEPA set out to address: 
There is an overemphasis on summative assessment directly linked to school performance measures.

There is a strong focus on literacy and numeracy, which limits pupils' opportunities to develop wider dispositions, undertake in-depth learning, and identify and pursue individual talents and passions.

There are limited opportunities for schools to collaborate and offer pupils the chance opportunities to develop based on feedback from outside their classrooms.
The aim of the PEPA was not to replace existing statutory assessments, but to give primary schools the chance to go beyond what the national curriculum and SATs currently value. We want teachers to be able to support all pupils in developing skills for life and exploring their passions inside and outside of the classroom.
Designing the PEPA
CfEY and Big Education collaborated with a group of  primary school teachers and leaders from seven schools across England and Wales to co-design the PEPA. We used Big Education's iteration of the 'double diamond' design thinking approach, allowing groups to think creatively in response to the brief via a process of divergent and convergent thinking. Over two face-to-face workshops, participants discussed possible approaches to the PEPA, gathered feedback from a range of colleagues and pupils, and overcame operational issues for delivery of the new programme.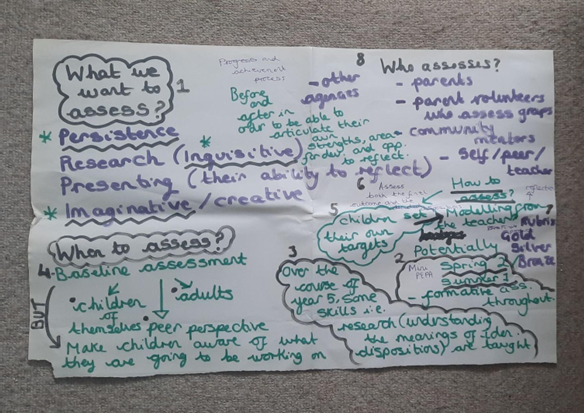 Overview of the PEPA curriculum
The final PEPA enables pupils to carry out an extended project that addresses a real-world challenge, presenting their work to the local community through a range of media at the end of Year 6, after trialling a 'mini PEPA' in Year 5.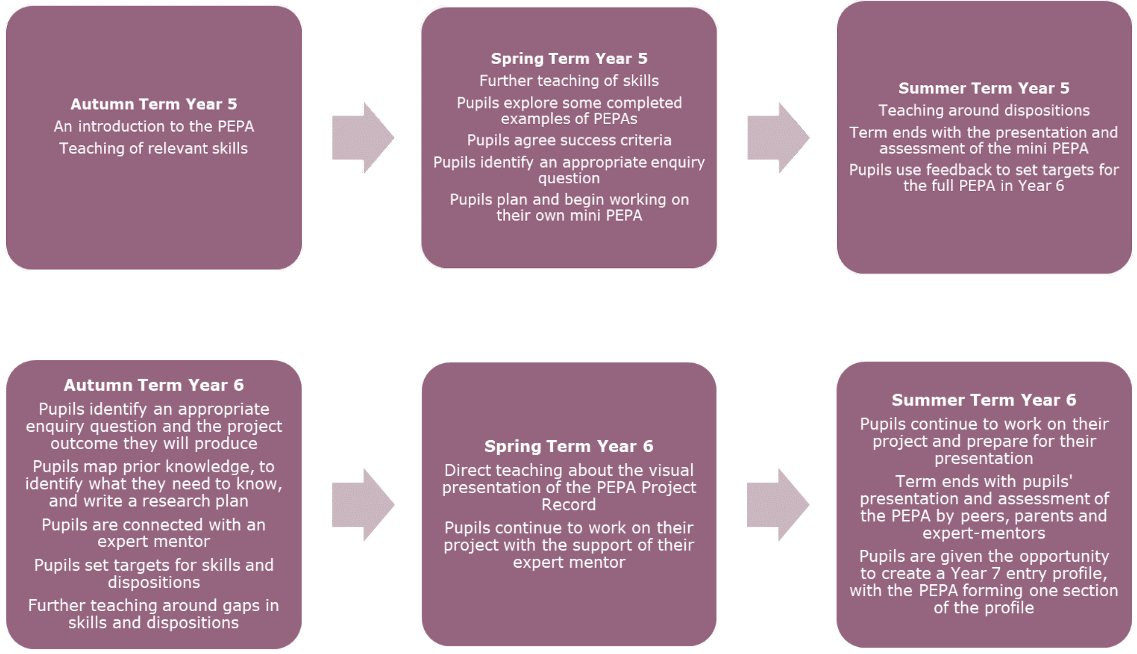 The assessment process is largely formative, focusing on research and presentation skills, imagination, inquisitiveness, and persistence. Pupils gather evidence and reflect on their learning in an online Project Record, as well as receiving and recording meaningful feedback from a variety of people, including external mentors with expertise in their chosen subject.  

Next steps
We see this tool as a practical and critical step in addressing the problems with the assessment system. We are now seeking funding to enable us to prototype the PEPA with seven schools from the design phase, and then pilot the tool across five clusters of between three and six primary schools across the UK. Our next steps will include: 
Development Phase: based on the workshop outcomes, we will produce a full set of materials and resources to support teachers with the implementation of the PEPA. These will be written by our central project team, with the support of two or three teachers from the design workshops giving evaluative feedback.

Prototype Phase: a rapid test of the PEPA with Year 5 or 6 pupils in the classrooms of the teachers who took part in this preparatory phase.

Pilot Phase: in which a wider group of schools and teachers will test the full version of the PEPA across two academic years. The piloting will aim to involve one cohort in Wales, one in either Northern Ireland or Scotland and three in England (with only one in London), incorporating a balance of rural, coastal, and urban schools.
How can I get involved?
Our vision is for the PEPA to contribute to systemic change, empowering teachers and pupils to go beyond testing and develop skills for life. If you are interested in discussing potential strategic support or funding for the next stages of this work please contact [email protected].
We are recruiting five clusters of three to six schools from across the UK – if you are a school leader or teacher who wants to know more about getting involved we would love to hear from you!
We would also be delighted to hear from anyone who might be interested in taking part as an expert mentor and supporting pupils with their projects.
If you would like to express an interest and receive more information about taking part, please complete the short form below. We look forward to hearing from you!
In partnership with: