LKMco Christmas newsletter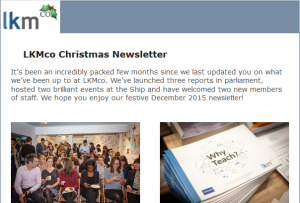 Tuck into a mince pie and have a read of our latest newsletter! We've had a very exciting last few months, with the publication of a number of major reports on subjects ranging from teacher recruitment, SEND reforms, how to develop the next generation of  school leaders and the future of examining. Read about these reports and other goings on at LKMco here.
Our Newsletter comes out twice a year and gives you our take on the world of education and youth, LKMco's latest research, as well as a few hints as to what's in the pipeline at LKMco. You can subscribe to the mailing list on our homepage, simply add your email address and click subscribe (and if you don't like it it's easy to unsubscribe- your choice!)
Click here to read our latest newsletter.