#010 – Geoff Barton: Leadership, listening and learning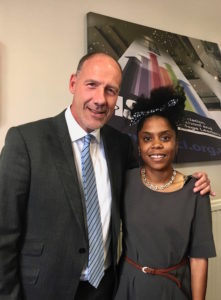 Geoff Barton is General Secretary of the Association of School and College Leaders. He talks to Iesha about leadership, literacy, books and radio.
In this episode Iesha and Geoff discuss
Geoff's love of 70s and 80s icon Noel Edmonds
Why his mum declared his exam results a "failure"
Why leaders need to ask fewer but better questions
Why literacy and social justice are linked for Geoff
Why Geoff feels that writing helps him to think
The newspaper article that Geoff had 20mins to write after a major disaster
His controversial election as general secretary of ASCL over the preferred candidate
Is ASCL a union that just wants to hold the status quo and be compliant with government?
Why Head teachers who become MAT CEOs are sometimes caught short
Resources/people featured or mentioned
Dylan Williams
The social animal -David Brooks
Blink – Malcolm Gladwell
Matthew Syed – Black box thinking
Show notes and links for this episode can be found at http://cfey.org/podcast/barton/ 
Found the show useful?
Leave a review on iTunes
Music Credits:
'Oui' by Simon Mathewson from  and 'Jump for joy' by Scott Holmes both from  http://freemusicarchive.org
Sample of 'Man don't care' by JME . "It's nice knowing Geoff" and "flame thrower" copyright Geoff Barton
Want to contact us?