The relationship between reading age, education and life outcomes
We are delighted to publish this literature review on 'The relationship between reading age, education and life outcomes', conducted for Sound Training in 2016, now Lexonik.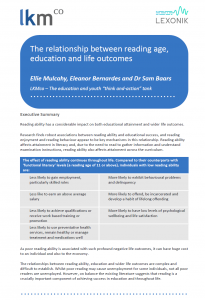 The review brings together evidence of robust associations between reading ability and educational success. It highlights how the effect of reading ability continues throughout life. Many of these effects center around educational and employment outcomes, individuals with low reading ability are:
Less likely to achieve qualifications
Less likely to gain employment
Less likely to earn an above average wage
Less likely to receive work based training and promotions
However, the effects of poor reading levels reach far beyond these areas and impact all aspects of a person life. Compared to counterparts with 'function literacy levels' people with low reading ability are:
More likely to exhibit behavioural problems and deliquency
Less likely to use preventative health services, remain healthy or manage treatment and medications well
More likely to offend, be incarcerated and develop a habit of lifelong offending
More likely to have low levels of psychological wellbeing and life satisfaction
The review examines in detail the relationship between reading ability and this wide range of negative life outcomes in order to highlight the profoundly negative consequences, to the individual and the economy, of low literacy levels.
The relationships between reading ability, education and wider life outcomes are complex and difficult to establish. Whilst poor reading may cause unemployment for some individuals, not all poor readers are unemployed. However, on balance the existing literature suggests that reading is a crucially important component of achieving success in education and throughout life.