What Does It Take For A Child To Get Help With Their Mental Health?
In partnership with Minds Ahead
by Loic Menzies
21st June 2018
Our new report published today lays bare the scale and severity of the UK's Youth Mental health crisis, showing that children in desperate need are being refused help. One young person was told a suicide attempt was 'not serious enough' for them to access support and another to put their 'chin up'.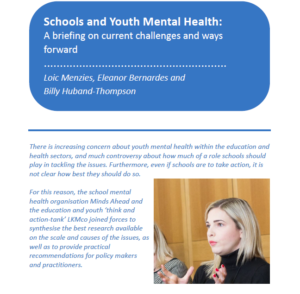 Our report, published with the school mental health organisation "Minds Ahead"  warns that despite the government's increasing focus on mental health it is likely to miss its own targets for improved services due to patchy implementation, a severe lack of funding and a shortage of trained specialists.
"Schools and Mental Health", argues that schools cannot, and should not avoid their role in tackling the crisis. The report calls for a new development programme to train mental health specialists to support young people with 'pre-clinical' needs within their school. It also calls for Ofsted to improve the way it inspects schools' contribution to pupil wellbeing and for school leaders to be 'true to their moral purpose,' by prioritising pupil wellbeing above league table positions.
Former Secretary of State for Education Nicky Morgan MP has welcomed today's report and called for "more emphasis to be put on wellbeing." Meanwhile former Health Minister Norman Lamb MP described the report as "essential reading" and backed its call for PSHE (Personal, Social and Health Education) teaching in school to include a practical emphasis on learning to deal with stress and learning about healthy use of social media.
The report will be launched at a Westminster Briefings event attended by teachers, school leaders and policy makers. It highlights shocking figures showing that:
Suicide is the leading cause of death, for five-nineteen year olds (ONS 2017).
Research by the NSPCC finds that one in three school referrals to Child and Adolescent Mental Health Services are turned down (NSPCC 2017).
75% of mental health problems begin before the age of 18 (NHS 2015).
As part of this project we spoke to dozens of experts to understand the spiralling incidence of poor mental health amongst young people and what can be done about it. Research participants particularly highlighted:
Chronic under-resourcing and under-staffing;
Fragmentation and poor coordination of services;
Unhealthy use of social media;
Changing social attitudes;
Exam pressure; and,
Uncertain and precarious career options for young people.