Oracy after the pandemic
In partnership with The Oracy APPG and University of Oxford
by Will Millard
28th April 2021
Oracy APPG report 'Speak for Change' published today
In 2016 The Centre for Education and Youth published The State of Speaking, in partnership with Voice 21 and Big Change. This research revealed that while teachers prioritised oracy highly, they were rarely able to give it the attention they felt it deserved. This research spurred the creation of the Oracy All-Party Parliamentary Group (APPG), chaired by former teacher Emma Hardy MP.
Nearly five years later, it is with pride that we share the Oracy APPG's final report, Speak for Change. This report was drafted by CfEY using evidence supplied by the APPG. It is the culmination of the Speak for Change Inquiry, which has run since 2019 and heard evidence from a huge array of people and organisations, including young people.
You can find out more about the Inquiry and download the report from the Oracy APPG's website, here.
The report draws on new research and analysis, 'Oracy after the pandemic', conducted by CfEY, and also published today.
'Oracy after the pandemic' published today
Today CfEY also publishes our new 'Oracy after the pandemic' research, funded by the University of Oxford and supported by the Oracy APPG.
What do young people feel about oracy?
The research draws on YouGov polling data to explore young people's perspectives about oracy, finding: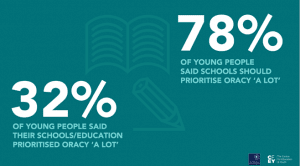 Young people (aged 16 to 25) in full- or part-time employment were more than 50% more likely to 'strongly agree' (35%) than young people who are unemployed or not working (23%) that their schooling/education helped them develop sufficient oracy skills for success in later life.
Young people put oracy on a par with reading and writing. 75% think oracy is 'very important'; 78% say the same for literacy.
However, less than a third (32%) of young people said their school/education prioritised oracy 'a lot'.
What do teachers feel about oracy?
71% of teachers feel that online teaching negatively impacted on the development of pupils' oracy skills. However, teachers in state-funded settings were more than twice as likely to say the negative impact was "significant".
One teacher in two said school closures negatively impacted the spoken language development of free school meal pupils – just one in five said the same of the most advantaged pupils.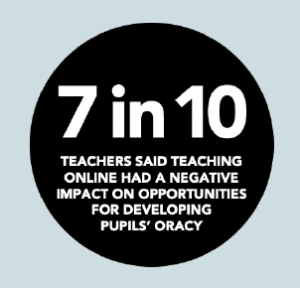 What does Ofsted feel about oracy?
Oracy does not tend to feature in schools' inspection reports, appearing in only a small proportion of all school inspection reports.
Less than a quarter (23%) of references to oracy in inspection reports link oracy with literacy.
Where can I find out more?

You can download the full report here.
New research from @Appgoracy and @TheCFEY highlights the link between poor oracy skills and unemployment, and shows young people wish oracy was a higher priority in schools. #SpeakforChange https://bit.ly/3dSHQgS
Click To Tweet
In partnership with: